Accreditation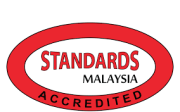 STANDARDS MALAYSIA is responsible for processing applications for accreditation and their submission to the Director General who, in successful cases, issues certificates of accreditation.
The Director General of STANDARDS MALAYSIA reports to the Minister of Investment, Trade and Industry through the Secretary General of the Ministry.
The Director General is assisted by the Director of Accreditation in the day to day management of accreditation activities.
Basically, a Council known as the Malaysian Standards and Accreditation Council (MSAC) has been established to advise the Minister in the effective operation of an independent, impartial and credible national accreditation system that aimed at fulfilling the requirements of ISO/IEC 17011, the terms of reference, memberships and rules of procedure of MSAC are described in STANDARDS MALAYSIA-MSAC. Independent and impartial appeal procedure is an integral part of STANDARDS MALAYSIA accreditation system.
STANDARDS MALAYSIA accreditation service is open to and accessible by any applicant, irrespective of local or foreign bodies that fulfills the accreditation conditions specified and published by STANDARDS MALAYSIA. STANDARDS MALAYSIA accreditation service is non-discriminatory. Accreditation criteria, policies and procedures apply in a consistent and uniform manner to all applicants and accredited bodies, irrespective of the bodies' affiliation or ownership such as privately or commercially owned and operated or governmentally owned or governmental organizations.
Generally, STANDARDS MALAYSIA undertakes a detailed examination of the applicant's documented procedures for compliance with published criteria and requirements. STANDARDS MALAYSIA also engaged qualified assessors of suitable stature and professional standing to conduct "on-site" assessments.
Decision on accreditation will be based on assessment reports, which are reviewed by an impartial and independent Review Evaluation Panel. The Director General based its accreditation decision on the appropriate recommendation of the Review Evaluation Panel. Impartiality of STANDARDS MALAYSIA's accreditation system is assured at three (3) levels, that is, (a) strategic and policies, (b) decision and (c) assessment.
International Linkages
Consistent with its primary objective of establishing mutual recognition arrangements, STANDARDS MALAYSIA participates actively in the following regional and international organizations concerned with accreditation and other related conformity assessment activities:
Who is International Accreditation Forum (IAF)?



The International Accreditation Forum, Inc. (IAF) is the world association of Conformity Assessment Accreditation Bodies and other bodies interested in conformity assessment in the fields of management systems, products, services, personnel and other similar programmes of conformity assessment. Its primary function is to develop a single worldwide program of conformity assessment, which reduces risk for business and its customers by assuring them that accredited certificates may be relied upon.
What is the Role of IAF
The primary purpose of IAF is two-fold. Firstly, to ensure that its accreditation body members only accredit bodies that are competent to do the work they undertake and are not subject to conflicts of interest. The second purpose of the IAF is to establish mutual recognition arrangements, known as Multilateral Recognition Arrangements (MLA), between its accreditation body members which reduces risk to business and its customers by ensuring that an accredited certificate may be relied upon anywhere in the world. The MLA contributes to the freedom of world trade by eliminating technical barriers to trade. IAF works to find the most effective way of achieving a single system that will allow companies with an accredited conformity assessment certificate in one part of the world, to have that certificate recognised else where in the world. The objective of the MLA is that it will cover all accreditation bodies in all countries in the world, thus eliminating the need for suppliers of products or services to be certified in each country where they sell their products or services. Certified once - accepted everywhere.
Accreditation Body Members
A2LA
: American Association for Laboratory Accreditation
ACCREDIA
: Italian Accreditation System
ANAB
: American National Standards Institute - American Society for Quality National Accreditation Board LLC
ANSI:
American National Standards Institute
BoA
: Bureau of Accreditation (Vietnam)
BELAC
: Belgian Accreditation Structure
BMWFJ
: Federal Ministry for Economy, Family and Youth (Austria)
CAI
: Czech Accreditation Institute, (Ceský Institut pro Akreditaci, o.p.s.)
CNAS
: China National Accreditation Service for Conformity Assessment
COFRAC
: Comite Francais d'Accreditation (France)
DA
: Directorate of Accreditation (Albania)
DAC
: Dubai Accreditation Center (United Arab Emirates)
DANAK
: Danish Accreditation
DGA
: German Association for Accreditation
ECA
: Costa Rican Accreditation Entity
EMA
: Mexican Accreditation Entity, (Entidad Mexicana de Acreditacion)
ENAC
: Entidad Nacional de Acreditacion (Spain)
EGAC
: Egyptian Accreditation Council
ESYD
: Hellenic Accreditation System S.A. (Greece)
FINAS
: Finnish Accreditation Service
HKAS
: Hong Kong Accreditation Service
IAS
: Iran Accreditation System
INAB
: Irish National Accreditation Board
INDECOPI
: National Institute for the Defense of Competition and Protection of Intellectual Property (Peru)
INMETRO
: National Institute of Metrology, Standardization and Industrial Quality (Brazil)
INN
: Instituto Nacional de Normalizacion (Chile)
IPAC
: Portuguese Institute for Accreditation
JAB
: Japan Accreditation Board for Conformity Assessment
JAS-ANZ
: Joint Accreditation System of Australia and New Zealand
JASC
: Japan Accreditation System for Product Certification Bodies of JIS Mark
JIPDEC:
Japan Information Processing Development Corporation - Information Management Systems Promotion Center (JIPDEC IMSPC)
KAB
: Korea Accreditation Board
KAN
: Accreditiation Body of Indonesia (Komite Akreditasi Nasional)
KAS
: Korea Accreditation System
MAURITAS
: Mauritias Accreditation Service
NA
: Norwegian Accreditation
NAA
: National Accreditation Association of DPR of Korea
NABCB
: National Accreditation Board for Certification Bodies (India)
NAC
: National Accreditation Council of Thailand, The Office of
OAA
: Organismo Argentino de Acreditacion (Argentina)
OLAS
: Luxembourg Office of Accreditation
PAO
: Philippine Accreditation Office
PCA
: Polish Centre for Accreditation
PNAC
: Pakistan National Accreditation Council
RENAR
: Romanian Accreditation Association (Asociatia de Acreditare din Romania)
RvA
: Dutch Accreditation Council (Raad Voor Accreditatie)
SA
: Slovenska Akreditacija (Slovenia)
SAC
: Singapore Accreditation Council
SANAS
: South African National Accreditation System
SAS
: State Secretariat for Economic Affairs (SECO), Swiss Accreditation Service
SCC
: Standards Council of Canada
SNAS
: Slovak National Accreditation Service (Slovakia)
Standards Malaysia
: Department of Standards Malaysia
SWEDAC
: Swedish Board for Accreditation and Conformity Assessment
TAF
: Taiwan Accreditation Foundation (Chinese Taipei)
TUNAC
: Tunisian Accreditation Council (Conseil National d'Accréditation, CNA)
TURKAK
: Turkish Accreditation Agency
UKAS
: United Kingdom Accreditation Service